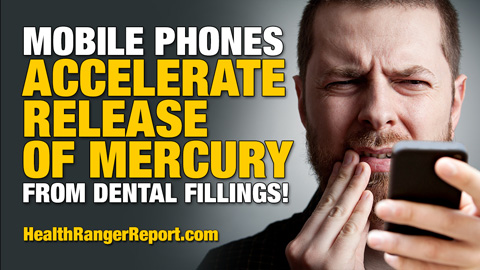 A fascinating scientific study has found that using mobile phones can accelerate the release of toxic mercury from dental fillings. This is especially noteworthy given that many people hold their mobile phones right next to their jaws when talking on them.
The study authors concluded that "MRI and microwave radiation emitted from mobile phones significantly release mercury from dental amalgam restoration."
This may even help explain the increased insanity now being witnessed across society, where the rise of mobile phones has caused the increased release of mercury, a toxic heavy metal associated with mental insanity.
In effect, mercury dental fillings and mobile phones have created a "binary weapon" of mass metals poisoning and cognitive insanity.
SOURCE: "Mercury release from dental amalgam restorations after magnetic resonance imaging and following mobile phone use" Pakistan journal of biological sciences: PJBS
Publication Date: 2008; Study Author(s): Mortazavi, S M J;Daiee, E;Yazdi, A;Khiabani, K;Kavousi, A;Vazirinejad, R;Behnejad, B;Ghasemi, M;Mood, M Balali;
Institution: Department of Medical Physics, School of Paramedical Sciences, Shiraz University of Medical Sciences, Shiraz, Iran