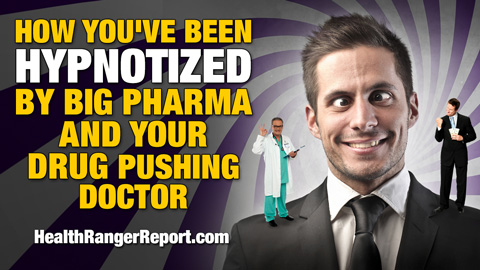 This is one of the most deeply powerful and life-changing podcasts I've ever recorded. It's a MUST LISTEN for anyone who has been diagnosed with cancer, heart disease, diabetes, Alzheimer's or any serious medical condition.
You may not yet realize this, but you've been rigorously hypnotized by the pharmaceutical industry to believe in "diseases" that do not exist. Even worse, you've also been influenced by insidious language patterns to think that your health depends almost entirely on high-priced prescription medications and vaccines.
In this podcast, I DEHYPNOTIZE you by breaking down the deceptive, influential language tricks used by drug companies, doctors and government health authorities to make you believe that you have no real control over your health outcome.
This is a powerful, revolutionary explanation that will awaken you to the shocking truth of how you're being systematically manipulated and influenced by an industry of poison that has mastered social engineering to control the masses.
Once you hear this explanation, your mind will be instantly set free from the distortions of modern medicine, allowing you to explore an entirely new outcome for your personal health and longevity.
As I say in this podcast, "When you change your words, you change your options. When you change your options, you change your outcome."
Hear all my podcasts at http://www.HealthRangerReport.com
Stay up to date on advanced medicine breakthroughs at http://www.Medicine.news