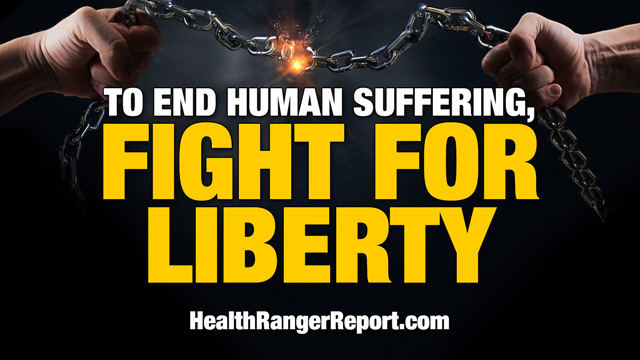 After fighting for truth and liberty for over 15 years as one of the world's top publishers, the founder/editor of Natural News, Mike Adams, the Health Ranger, has created a formula that can help anyone navigate the attacks, censorship, slander and intimidation that's dealt out by the corrupt institutions of government, corporations and the media.
In a recent podcast, Adams presents 10 powerful rules for the next generation of liberty activists, bloggers, journalists and truth-tellers.
Adams is the creator of AlternativeNews.com, NaturalNews.com, FETCH.news, GoodGopher.com (the search engine for alternative media), and hosts hundreds of websites authored by the some of the liberty movement's most prolific authors.
The Health Ranger has been a long-time advocate of both health and food freedom, but also of liberty in general. And, because of his familiarity with the so-called "liberty movement" and the many people involved in it through the years, he has come to realize that it is time to pass along certain things he has learned along the way to the next generation.
"Because, before you know it, we're all old and retired, and it's your job to fight for liberty to save this nation from the tyranny and oppression that seems to be growing every day," he said in his podcast.
Adams noted that the journey has not been easy or safe one. He has received death threats from various individuals and entities — oftentimes the government itself, he believes — and has been targeted with lawsuits, threats of violence, advertising boycotts and other actions.
Here are some of Adams' golden rules that the next generation of freedom and liberty leaders ought to know:
Rule No. 1: "Don't talk to the mainstream media." Adams learned long ago that the so-called 'unbiased' purveyors of 'truth' are neither unbiased nor truth-tellers. The mainstream media, as it is called, isn't really mainstream at all, but rather consists of far-Left ideologues (some would say far-Left extremists) who are pushing a particular political agenda in everything they report. On a daily basis, Washington journalists conspire about what to report, how to report it, what angles to take and what to ignore and cover-up — and Adams has seen this for years.
"I understand that it's tempting that as you're rising up and you're getting more popular, one day you have a Washington Post reporter contact you, and they tell you this story about how they're going to feature you," he said, when the reality is, as a freedom fighter they're simply going to "mock you." Adams noted that mainstream reporters will also purposely quote you out of context to make it look as though you said or meant something that you neither said nor mean.
Later in the podcast, Adams also noted that you should never believe anyone who may approach you in public, claim to be a "big fan," and then propose you both plan something drastic, like a bombing or some other kind of attack.
For one thing, Adams says, violence should never be your goal in the first place; political change is won and kept via the spreading of superior ideas, not by attacking your rivals (as people on the Left routinely do). Secondly, in his experience, virtually everyone who tries to convince you to conduct some act of violence is a federal agent trying to set you up.
Elsewhere in his podcast, Adams also advises the next generation of liberty leaders to always be honest, tell the truth, and be outspoken about it. Also, they should never apologize for their points of view and should not be bashful about sharing them.
Listen in, below, or click here.